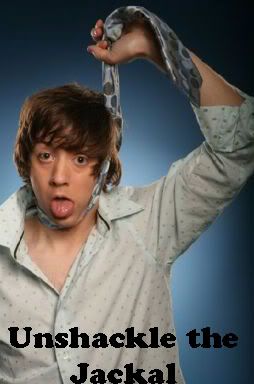 Unshackle the Jackal

November sweeps are just around the corner. It's our time. Sitting around talking about the fact Spinelli isn't on much, or that he is no longer with Maxie is not going to change anything. We need to work together as a team. No matter if you want Spinelli with Maxie or with another female. That is not what this is about. The General Hospital plate is full of cast members. We don't want our guy to be left out.

Do you remember Hugs for Spinelli? That was started back in January of 2008. Spinelli started to get his own storyline (outside of Jason, outside of the penthouse, and outside of tech work for the mob). It was wonderful, wasn't it? We got to watch Spinelli grow as a man, watch him start his own business, saw him fall in love (for real), and watched his him as he felt as though he was losing his love & best friend.

Spinelli's storyline has decreased since his non-wedding to Maximista. For now TPTB have taken the character of Maxie into another direction, which is fine…But where has that left our favorite Jackal? It has left him in shackles at the penthouse. We have seen him leave the penthouse on rare occasion over the last several months. Twice it was to see Jason in jail. Another time was to see Carly at Metro Court, and lastly we know he left the penthouse to give Jason/Sam alone time…though we didn't get to see him at his office. His office. That's right our Jackal owns his own PI business. Why not give him a case (outside the mob) to work on?

This is something everyone can participate in. Our main focus though is to get Spinelli out of the penthouse, and having a storyline that is more focused on his character, while at the same time still having presence in other storylines (like Jason or the current Carly storyline). One can easily bring up the fact that if Maxie wants to snoop around for evidence about Lisa Niles…She would contact the Jackal.




The Jackal is so much more then Jason's tech guy or Maxie's latest boyfriend. He is a very valuable character on canvas. It's time to unshackle the Jackal.




For the next 30 days, we will have a goal a day. You may do more each day then the goal listed (and there may be many repeats). Other ways to help can be found here: http://community.livejournal.com/spinelli_gh/2847145.html




We'll start out with an easy one.Whether Spinelli is on (or not) today call the comment line. 1-323-671-4583



Once you call today...Please respond.


Also, Friends don't let Friends support Spinelli alone. Encourage your friends (online or offline) to participate as well.




(PS…If you have any ideas for daily challenges please let me know….All ideas are welcome & wanted).